Search all entries and comments in thesims2! Over 14,000 entries and 118,000 comments are searchable.
Enter multiple search terms for better results. All terms included by default.
BEFORE POSTING: Please remember, you must read the
community rules
first. Use the community search feature AND the memories/tags before posting questions/problems.
All posts exclusively about The Sims 3 will be deleted.
Please post your Sims 3 content in another community, such as
simsthree
or
simply_sims3
. If you would like to review the game, especially in comparison to The Sims 2, you can also do so (or read previous reviews), in
this entry
.
Notice for those about to install an EP/SP!
Remember to
remove mods/hacks
from your game before installing.
(That entry is specifically for FreeTime, but the advice it gives is good for any new expansion pack.)
*****
Lavenworth Residence

Settling in to the slower pace of life in Jacksonville was easy. It was a refreshing change of pace from the rat race she was accustomed to, and all for the better. She was more than happy to trade her penthouse apartment for a cozy cul-de-sac home in the neighbourhood of Oak Springs. In no time, she gladly traded in her heels for flats and sneakers, as well as designer outfits for jeans
Read Cederville Heights
here
Episode Archive
PREVIOUSLY, ON THE BRAINS LEGACY: Darlene's three brothers (Scooter, Buddy, Torgo) moved in, along with Special Delivery Temblor. Scooter and Special got busy and made a baby, Segway. Heir Clayton and his wife Lanika had their own baby, Erhardt, who appears to be a mini-me of Clayton.
This week we have a new weekly challenge and Scooter and Special drive me nuts. And you'll find out why this episode is named the way it is.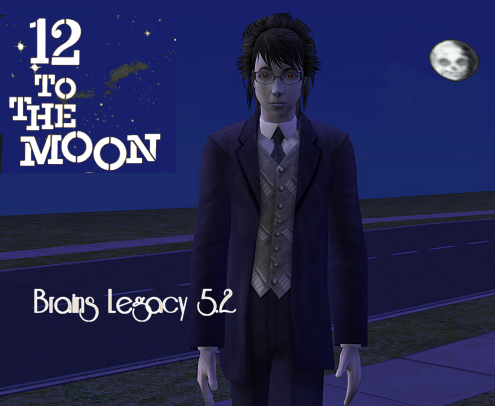 ( 12 to the Moon )