Search all entries and comments in thesims2! Over 14,000 entries and 118,000 comments are searchable.
Enter multiple search terms for better results. All terms included by default.
BEFORE POSTING: Please remember, you must read the
community rules
first. Use the community search feature AND the memories/tags before posting questions/problems.
All posts exclusively about The Sims 3 will be deleted.
Please post your Sims 3 content in another community, such as
simsthree
or
simply_sims3
. If you would like to review the game, especially in comparison to The Sims 2, you can also do so (or read previous reviews), in
this entry
.
Notice for those about to install an EP/SP!
Remember to
remove mods/hacks
from your game before installing.
(That entry is specifically for FreeTime, but the advice it gives is good for any new expansion pack.)
Flowers. Everywhere, flowers. Surely, some poor garden somewhere had been denuded for this as the flowers were fresh. It was absolutely lovely, but she couldn't understand it. Paulina noticed a touch of soil in the heavy floral scent. Lady Montague and Lady Bianca kept a very tidy house. If either of them knew their furnishings had been covered with uprooted flowers, they would be very angry. And who would ever think of such a silly thing?
Read more @ winterinverona.blogspot.com
Last Update: August 20th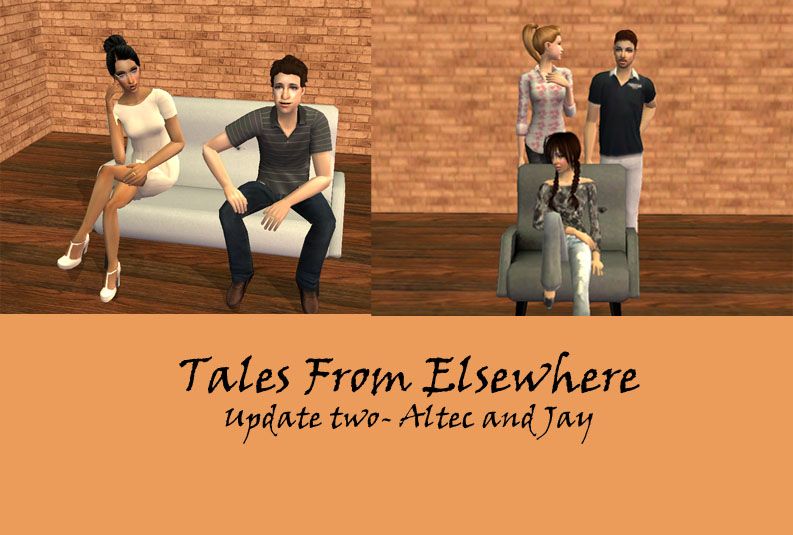 CLICK
This is part one- only the Altec family.
I was inspired to do a BACC, as well as Apocalypse challenge, so I'm switching off between them, for variety.
When clicking on a sim to interact with them social wise.. the pie-menu has about 10 options for DEBUG- SUPER DUPER HUG and a lot of options that SHOULD be there are missing. Not to mention everyone in the household is spamming each other with 'friendly hugs' yet I can't even get the option to actually have them try to have friendly hugs with anyone.
I play with InTeen, InSim, and a few other very minor mods. I have all the flavor packs for InTeen as well and up until now, everything has been playing together very nicely. Anyone have any ideas what this problem could be or what I might have deleted to cause this? I'm off to google to see if I find anything right now and will edit if I do, BUT thought I would ask here and see if anyone else might have had something similiar happen before and know what to do..
EDIT: Probably should have googled first. I think I found what happened and tried one of the fixes I found for it. Hopeing next time I go in game it'll be fixed but I'd love to hear everyones suggestions and how they've fixed the issues before along with links if mods of any kind are needed just incase my fix doesn't work! Thanks!
Sooo I've spent most of the day fighting with my game, trying to make it run better, etc. I deleted a bunch of CC and even a few mods that I just didn't find useful anymore. apparently along the way I deleted part of a mod that was ACTUALLY needed or something because when I went back to play again I got this:


So my game has been crashing recently. Thankfully I have my CC organized to a tee! I discovered the problem was from certain CC and I used Sims2CleanPack Installer to remove empty packages and duplicates, just in case.

At this point I had all folders, save for the Downloads one, so bye bye awesome lots.

Thankfully, my game stopped crashing - success!

But this has made me want to be even more cautious now with CC duplicates borking up my game.

I noticed one of the biggest culprits is when I download furnished houses. There is such awesome furniture that simmers use, but S2CP never tells me if I have this cc already or not. So after installing lots I need to rescan the entire Downloads folder just to mark duplicates, and later use DDO to sort them into the subfolders I have set up.

It is a painstaking process and I am certain I must be doing something wrong here :(

So this is my question: When I'm installing furnitured lots how can I make sure I am not installing CC that I already have?

Thank you guys :)
Hi everyone :)