Search all entries and comments in thesims2! Over 14,000 entries and 118,000 comments are searchable.
Enter multiple search terms for better results. All terms included by default.
BEFORE POSTING: Please remember, you must read the
community rules
first. Use the community search feature AND the memories/tags before posting questions/problems.
All posts exclusively about The Sims 3 will be deleted.
Please post your Sims 3 content in another community, such as
simsthree
or
simply_sims3
. If you would like to review the game, especially in comparison to The Sims 2, you can also do so (or read previous reviews), in
this entry
.
Notice for those about to install an EP/SP!
Remember to
remove mods/hacks
from your game before installing.
(That entry is specifically for FreeTime, but the advice it gives is good for any new expansion pack.)
Episode Archive
Previously (a while ago) on the Brains Legacy: The family went on vacation to the Deep Forest, almost got eaten by bears, discovered a creepy guy in a shack, learned how to catch and eat their own raw fish, and sleep under tents.
Now the family has returned home and prepares for the kids to head off to college.
( The Brute Man )


So could somebody point me in the direction of a couple? Especially if they have the Fight Club/Zombie Apoc mods?

Or at least towards somewhere that might be able to do so?
I'm not entirely sure if this is okay, but I've tried the search; the tags and google. I'm desperately wanting to read some completed Sims 2 Apocalypse Challenges and I'm coming up with absolutely nothing. Surely, they have to exist?
Previous Episodes
Last time on the Brains Legacy:
Steffi Brains (gen 7 heir) her husband Cieran surprised me with a couple more twins, bringing their kid total to five. Steffi believes she knows exactly the best way to raise children (yep, one of those). Magic Voice and TV's Frank became teens and have the exact same LTW, which means an heir poll is in the near future.
( Leave the Bronx )
Episode Index
Previously on the Brains Legacy:
Steffi Brains, Perfect Mother and Don't Deny It or Else, and husband Cieran moved into a lovely new home where they proceeded to wear sweaters, eat chia pudding and follow a near-Quiverfull policy. Yikes. Will their kids TV's Frank, Magic Voice, and Steve Reeves rebel against this?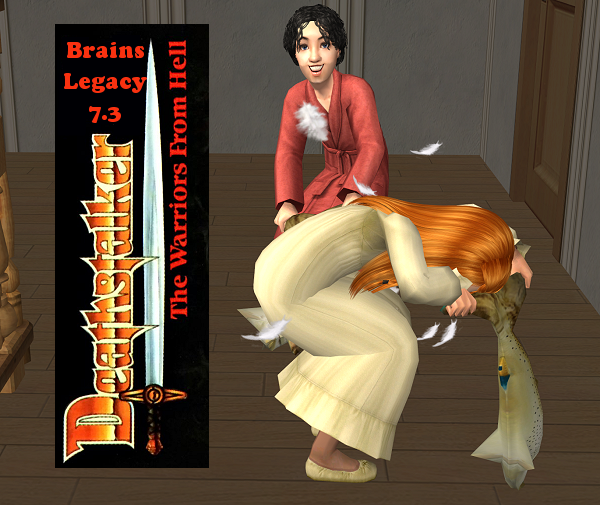 ( Deathstalker and the Warriors from Hell )