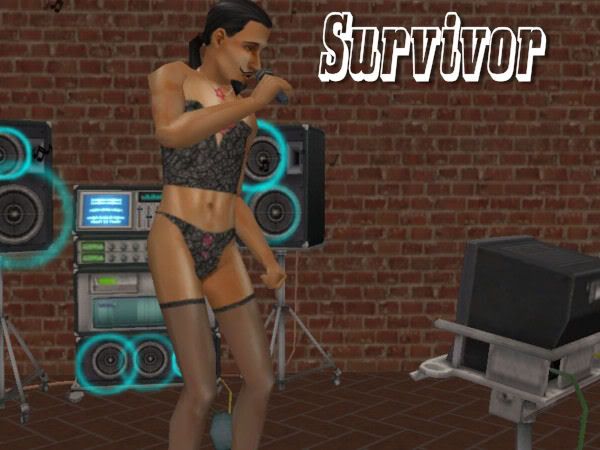 The Survivor household members managed their freedom differently. First, of course, they had to get used to the new house and where everything was. And adjust to the neighbors and each other. Phoebe wasn't out to make friends.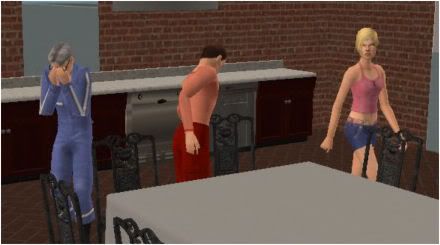 Not even with her housemates.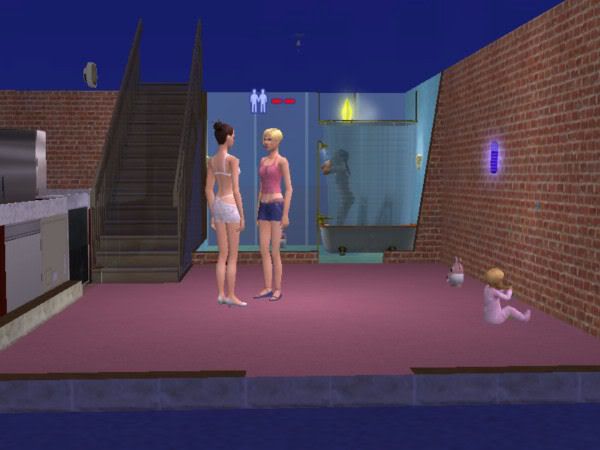 She wanted to woohoo with twenty different sims, and it didn't look like that particular goal was anywhere near going to be met. It made her grouchy just thinkiing about it. She got a job in the military track, thinking those soldiers might be hungry for what she had to offer. Unfortunately, she didn't rest up before going to work the next day and when she came home she barely made it out of the carpool.




The Creator is glad she wasn't driving.

Interestingly, although exhausted through her whole work day, she was promoted to elite forces. We have to wonder what she did to get that promotion.

Two other adults also found jobs: Charles Darwin is a dishwasher while Matthew is an emergency medical technician. They looked forward to going to work the next day, meeting people, eating and using the bathroom. Hopeful chose to remain unemployed so she could be on hand for the little one.

But we're getting ahead of ourselves a little bit. That first day, Monday, most of the gang had some trouble going to bed on time. Eventually most of them did find a bed and sleep there. Hopeful was so hungry, though, that she sat down to eat when she was also very tired. Matthew generously prepared hotdogs for everyone, and sat down to join Hopeful and Phoebe, who was also chowing down on food of her own making.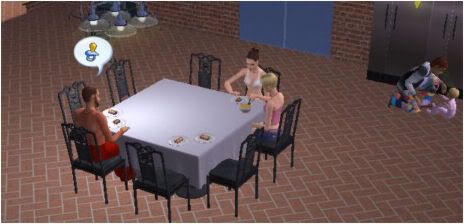 Nobody thought to call anyone in for dinner, though. And Hopeful fell asleep in her food.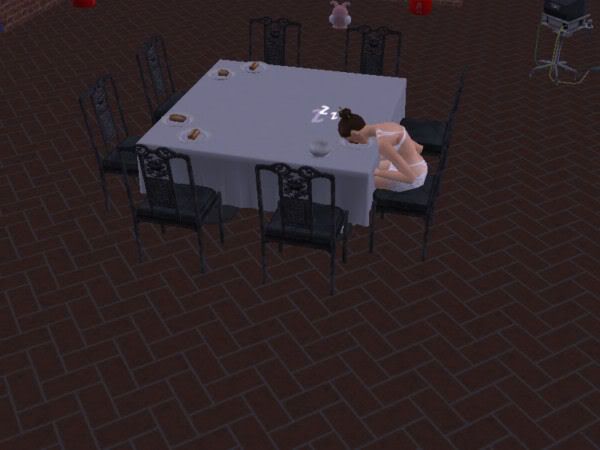 She sat there, face down, all night. Meanwhile, Charles Darwin got hungry, really really hungry, and came to the table.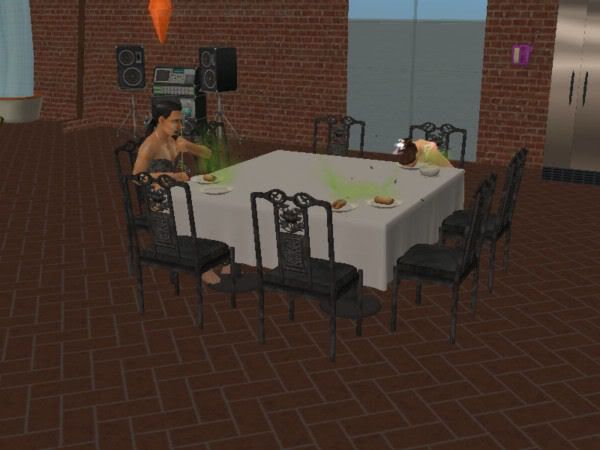 By this time the food was well on its way to becoming a scientific experiment (which, after all, hot dogs are anyway), but this didn't trouble Charles. Hopeful was still there when the maid came the next morning. After this first night, she usually managed to find a bed to sleep in.

Sims tended to cook at the same time.




This made for nice familial talk, but it became a problem when one was using the stove and the other was ready to use it. The Creator added a second stove to solve this problem. Even with all the counter space and cooking room a sim could want, though, sims would start meals and get distracted, leaving the makings behind.




In this particular case, The Creator stepped in and directed a hungry sim to finish cooking. The second day there was a fire...




Of course everyone had to run around like the idiot sims they are, screaming and getting soaked with perspiration, until the fireman came. Thank heaven there was a smoke alarm installed or this would be the end of this story. In that case, though, The Creator would have many lovely gravestones to bring over to the new cemetery in town! So there is always a bright side. Right after this fire, Hopeful, Phoebe, and Charles simultaneously,as if choreographed, grabbed their heads and moaned about the environment. Heh. Maybe if they'd be a little more careful, like the fireman said, there wouldn't be such a mess.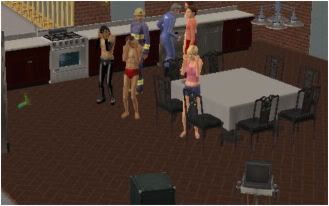 And here The Creator had to step in again. Not right away, but after the maid left the following day. The two pots on the stove were still sitting there - sims won't clean them up after a fire and the maid won't either. Again, if they'd been left there the sims would have had to resort to whatever they could make without the stove, and their imaginations aren't so great. We'd have gravestones for sure then. So The Creator directed a sim to clean them up. The Creator learned in a former house of free-willies that some sims will stuff their faces and others will make tv dinners or salads, but some never figure it out and just starve. Another option would have been to add more stoves.

But off with the philosophical justifications. What we want to know now is how's the baby doing?

The Creator is pleased to note that every one of the adults and the teen did take care of the babe's needs. Not always in a timely fashion. One time our poor Hopeless woke up, cried for attention, and nobody came. She sat in her crib.




And sat.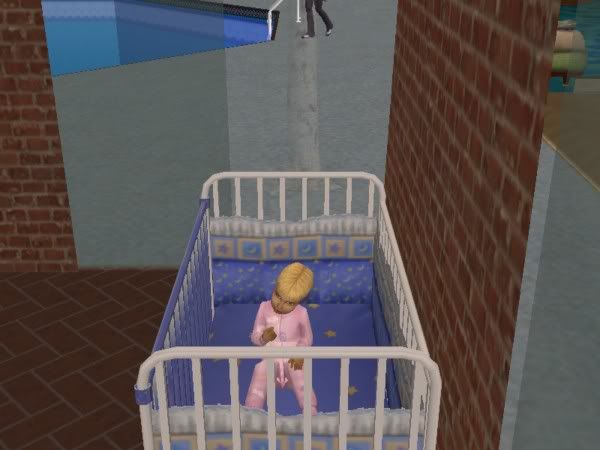 Picking her nose and looking at it or throwing it away. She got stinky, stood up and cried.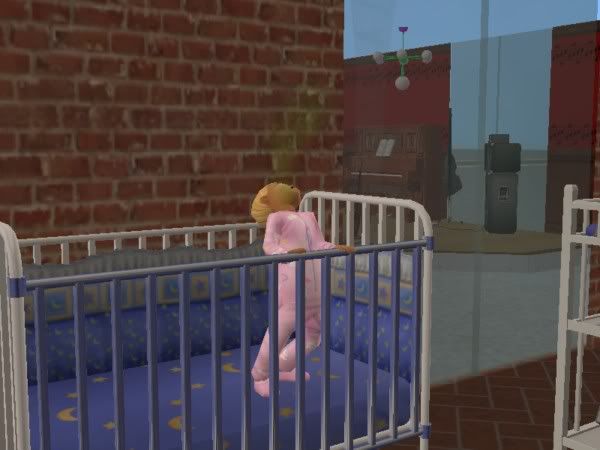 and cried.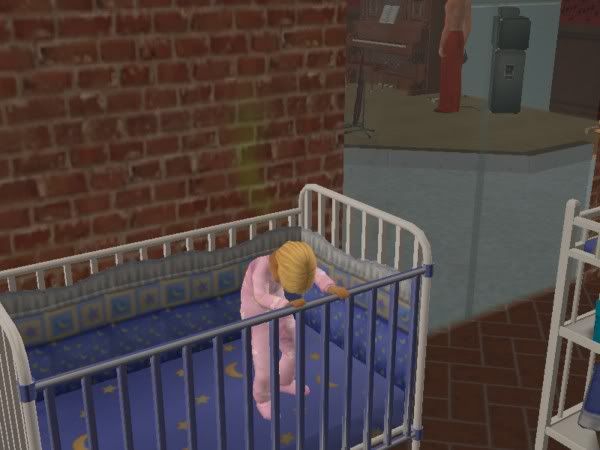 and cried.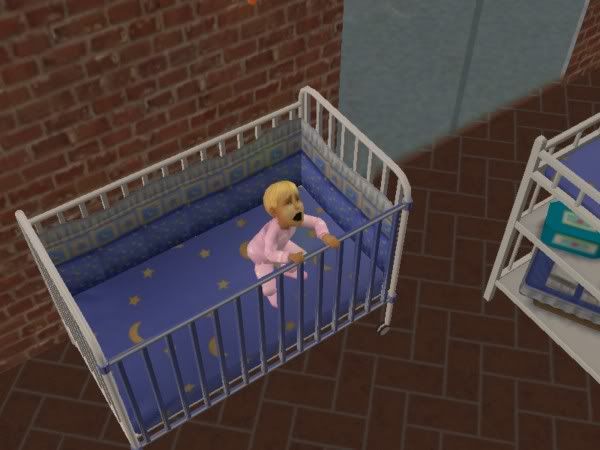 Nobody came. She exhausted herself and fell asleep again. Which is when Useless came along, wanting to read to her.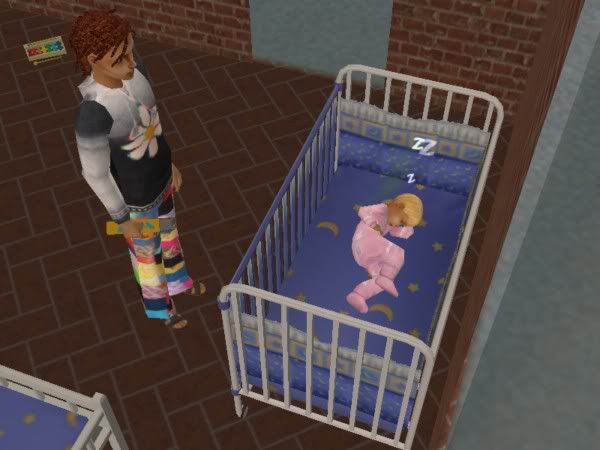 The cycle was repeated and repeated over the next several days: Hopeless would stink up the room, which upset her perhaps more than anyone else because she's a neat freak, then a sim would take her off to the bathtub and bathe her.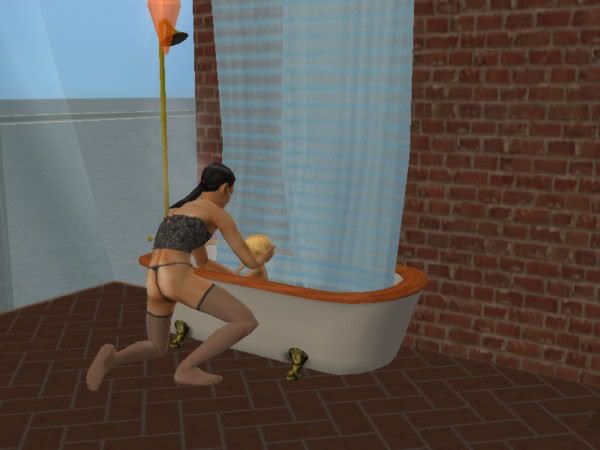 She certainly welcomed the attention but she really really wanted to be potty trained. On the fourth day...what's this???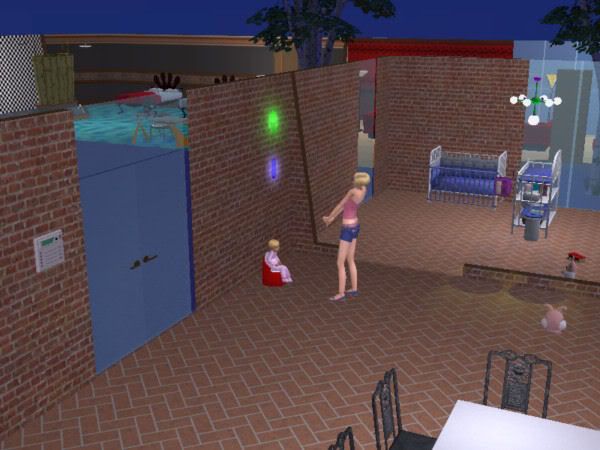 Phoebe actually put her on the potty! Hopeless was so grateful! Then, her mothering spirit awakened, Phoebe also changed her diaper.




Even though this time it wasn't necessary. And she spent a long time playing with Hopeless, tickling her, cuddling.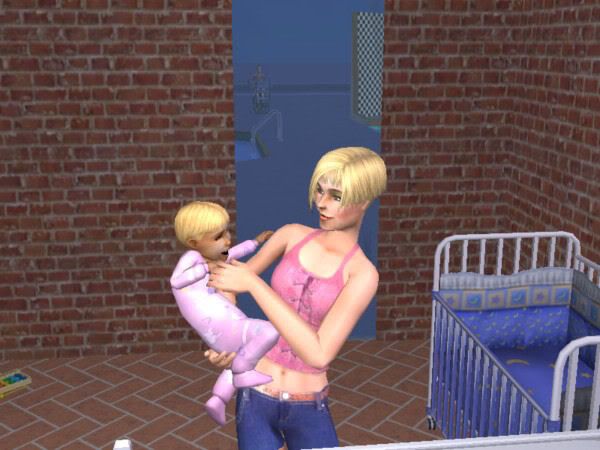 Even though she herself had to use the bathroom desperately.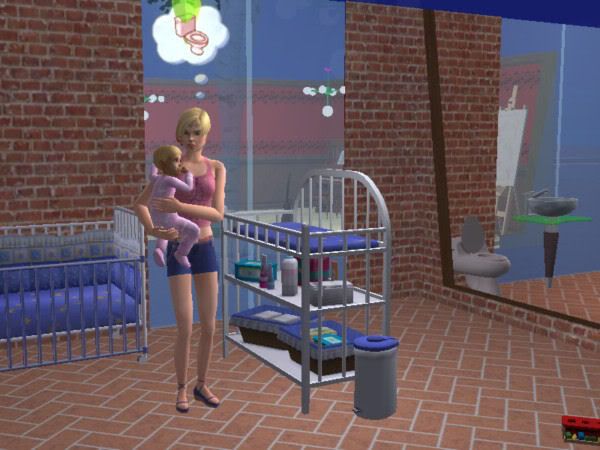 That happened on the fourth day, and therefore was too little too late for Hopeless' potty training, but it showed that Phoebe - who wants to bed 20 different sims - has that mother in her, even if she doesn't use it for her own sweet son Useless, who appears to be having the worst time of anyone here. That story will have to wait for next time.