Part I | Part II | Part III | Part IV | Part V | Part VI | Part VII | Part VIII |Part IX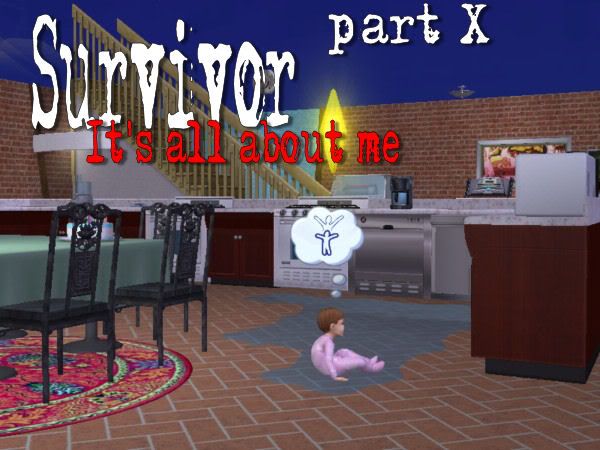 In which we visit our troubled free-will household while it tries to cope with a toddler and a baby.

Alma, the toddler, seemed to be in a better position because she could move around and the adults did in fact bathe her once in a while and give her bottles. Whereas Georgia was suffering the same treatment Alma had as a baby. She was fed sometimes and put in the crib sometimes but mostly...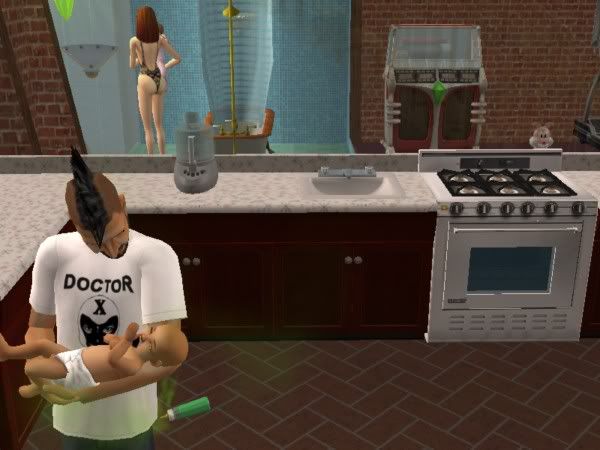 She was held by a worried adult who had no idea how to change a baby. Or...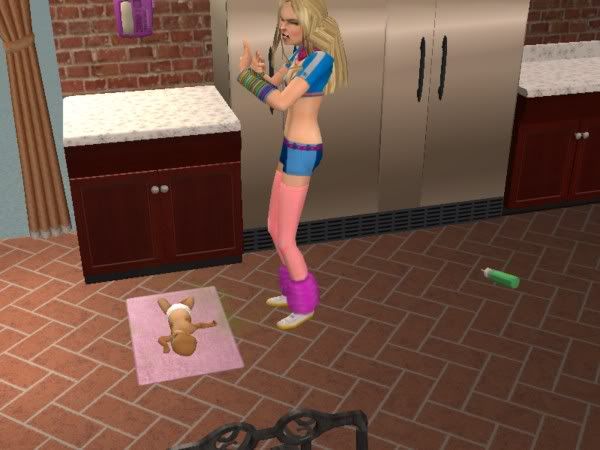 She was left on the floor, while adults held their nose at her stink.

The adults were all suffering from aspiration distress.




Their distress increasingly prevented them from taking care of their own needs for long periods of time, resulting in raids on the refrigerator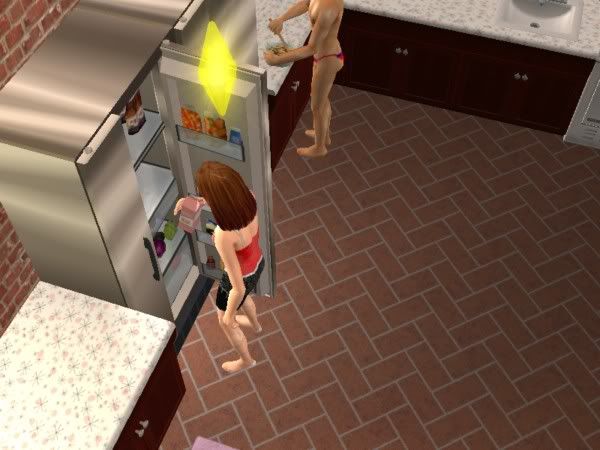 and faces in the food.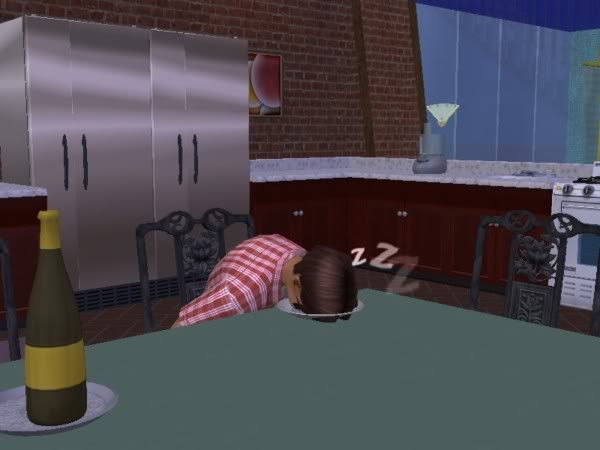 Monday arrived, four weeks after our gang moved in, and found the household well into disarray. Keep in mind that all physical means were available for the adults to feed themselves, use the bathroom, take baths or showers, and sleep. There were playthings galore to take their minds off whatever might be troubling them. BUT. When they don't get what they want, sims can't even take care of themselves.

Hunger kept Useless from sleeping. He went to bed hungry, woke up, moved to another bed..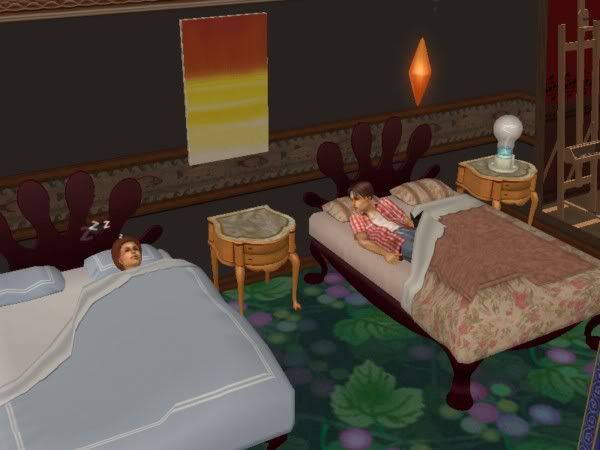 fell asleep, woke up hungry, moved to another bed...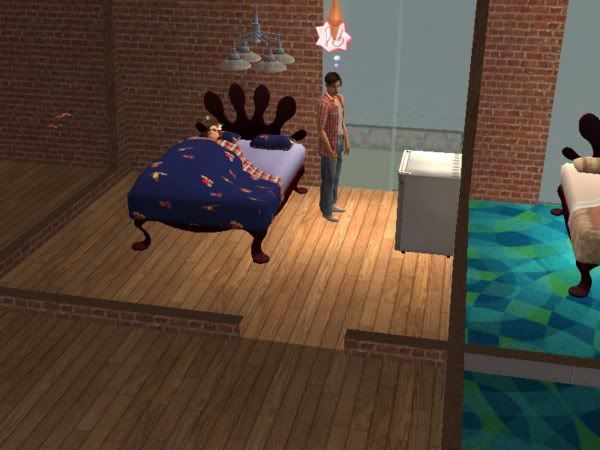 (Are those his pajamas?? I don't remember those.)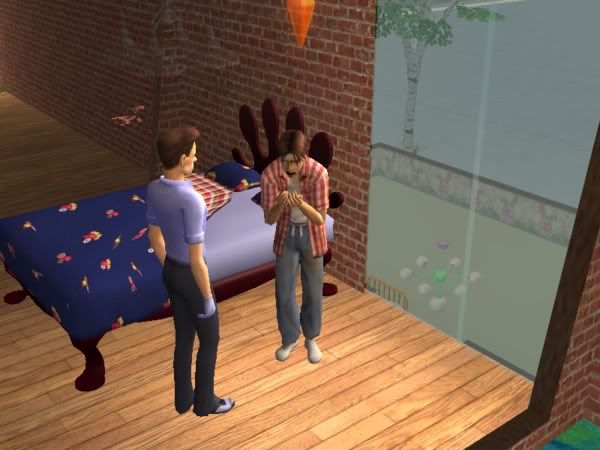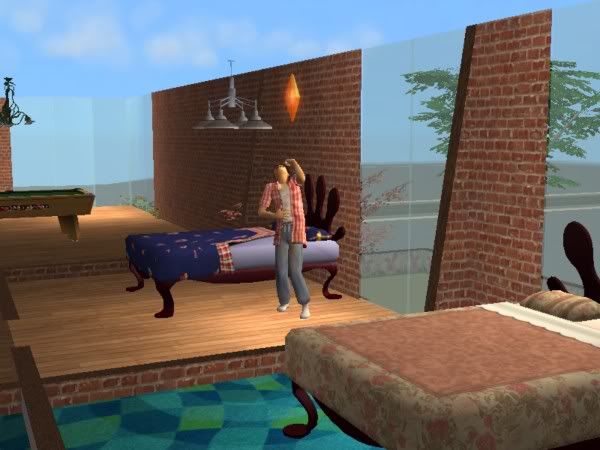 until his hunger level was so low he was in danger of moving to the Great EAGames in the sky. Right about this time, someone else left the makings for a meal on the counter, as they had done so often in the weeks before. Our Creator, who hates this type waste, chooses whoever is selected at the time and has that sim finish preparing the meal. Lucky for Useless he drew the card. He prepared the meal.




It was just enough to keep him alive, but not sufficient to stop the descent into Aspiration Hell. Up until now, Useless had been managing fairly well, compared to his roommates.

There was the occasional pillow fight,which might lead you to believe all was right with the world.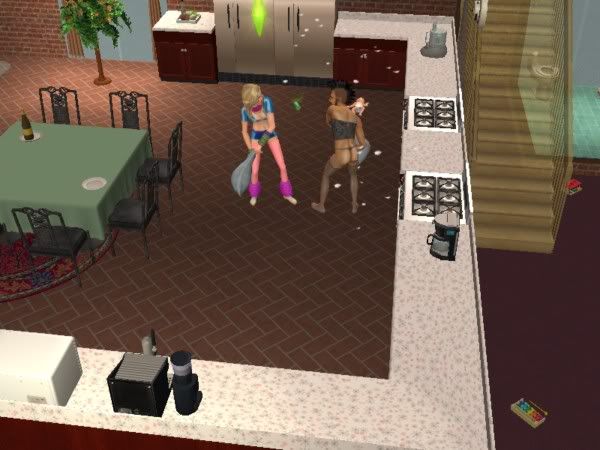 Until you looked at the screaming baby on the floor, that is.

While various sims were alternately holding little Georgia and putting her down, Alma took to drinking the sour milk in the bottles left on the floor.




She threw up every time. But the bad milk did help fill her up a little. After Remington had been in and cleaned up the bottles, she became more desperate. She asked Phoebe for a bottle.





Phoebe waved her arms and shook her head.



Alma went to Useless.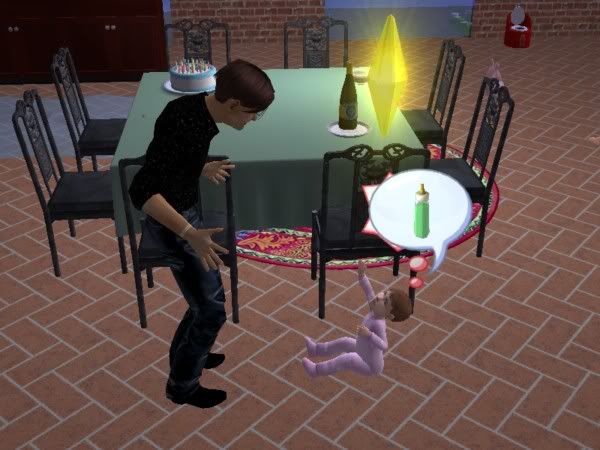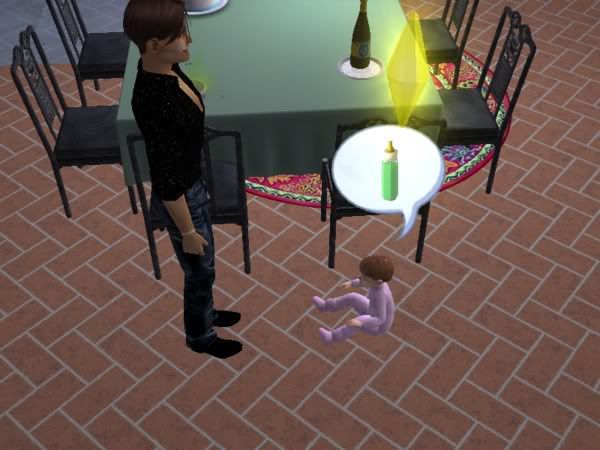 He waved his arms and shook his head.

Alma asked Hopeful.




She took her to the bathroom and gave her a bath.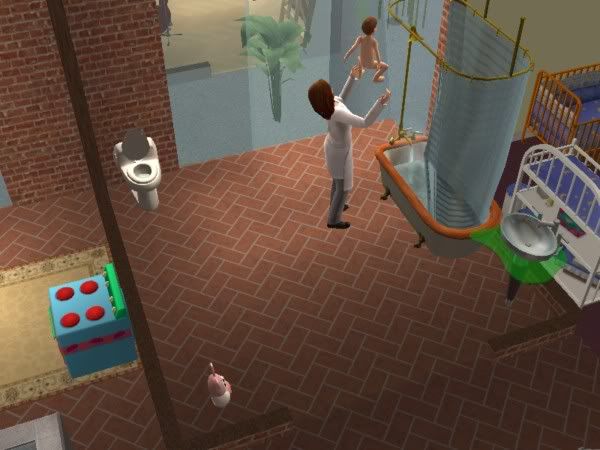 Then she peed on the floor.




Alma still tried to get her attention, but Hopeful wasn't hearing it.




Alma played in the pee, spreading it wider and wider on the floor.




And she too experienced aspiration distress. She was so hungry now that the Omnipresent Voice said "Feed that Child!" urgently and more than once. The Creator heard it but none of the adult sims did. Just as Alma reached complete hunger exhaustion, Charles Darwin came along. He had just cried his eyes out in front of a stranger.




Charles bathed the toddler.




But did he give her a bottle? Nooooo. Instead he put the exhausted, starving child into her crib.




Where she fell asleep, much to the relief of The Creator, whose stomach was in knots by this time.

What's that we hear? A van? Outside? Might it be the familiar blue van?

And what's that we see? The baby! Little Georgia disappeared in a flash, apparently the simbaby's way of getting into a van.

The social worker found Alma in her crib.




She talked to her in loving tones.




She held her close to her heart.




And took her away in the night.




Hopeful cooked and cried for her lost child.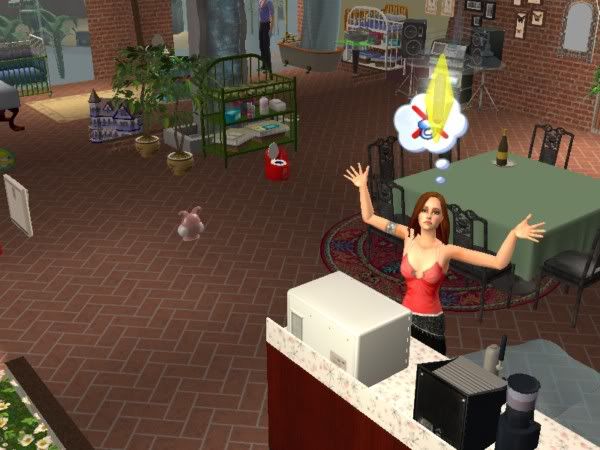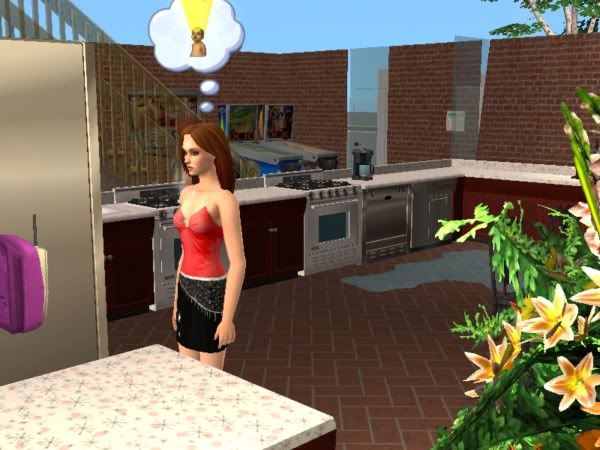 Phoebe dealt with her grief by blowing bubbles.




Before his grief caught up with him, Matt turned into an elder.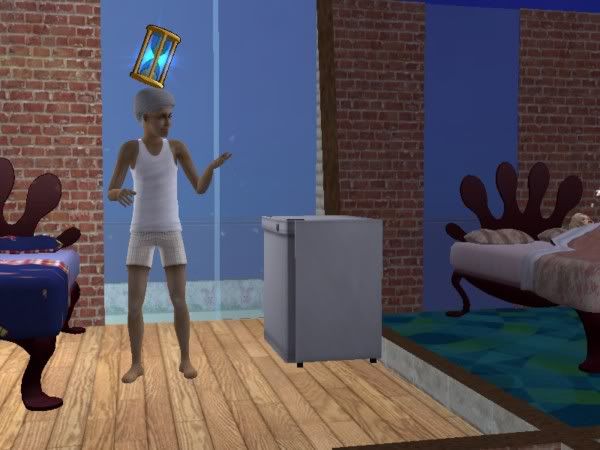 Followed by Hopeful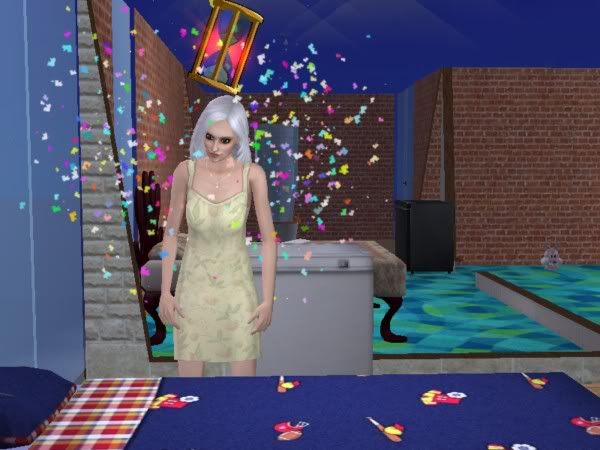 Phoebe...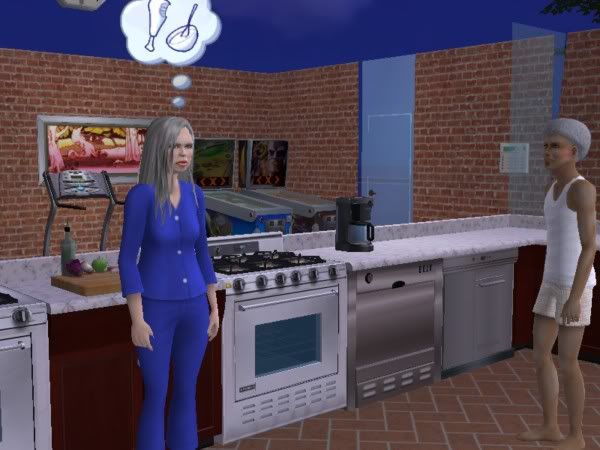 Charles Darwin grew up quietly, away from the limelight, and therefore we have no pictures of him. Immediately the gang started another fire.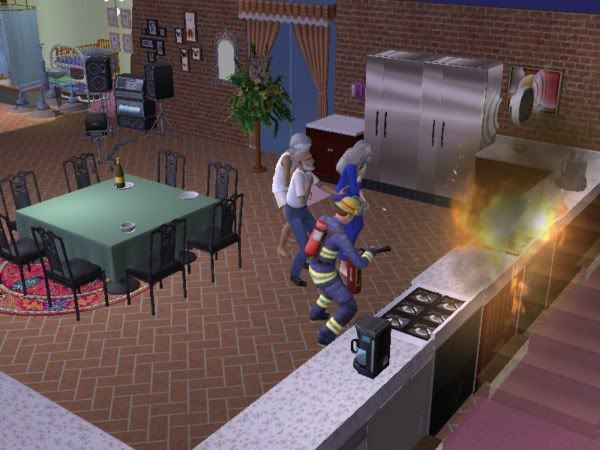 And at this point The Creator is wondering if she should have taken out the smoke detector.